Personally, I'm all about that Brunch life, but to be honest these days whose not?!
Big brunchin at home is not a thing we tend to do often but when we do actually do it, we go allllll out and make things like these BREAKFAST CHORIZO CHIMICHANGAS.
This recipe came from one of my favorite things to do on the morning weekends, watch Food Network while drinking a big cup of coffee snuggled up on the couch. Bobby Flay came on with Brunch at Bobby's and he whipped these babies up and that was all it took for me to want to have them immediately.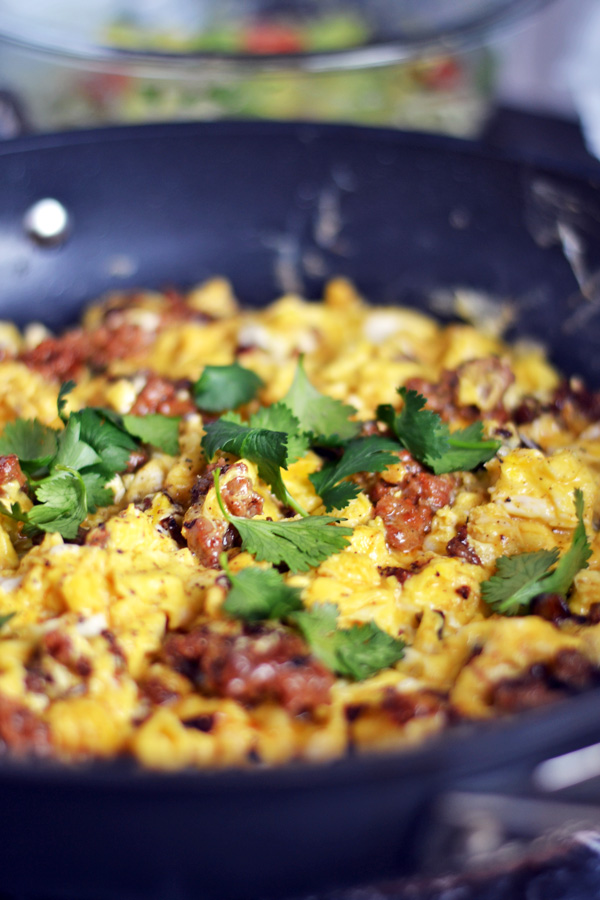 These Breakfast Chorizo Chimichangas are not just any type of chimichangas, they're full of lots of flavorful goodies and toppings.
They're made with simple ingredients but paired together with the perfect amount of salty to citrus to cheese goodness.
They're baked until golden, which makes them WAY healthier than frying but just as good because the outsides still get brown and crispy crunchy.
Mhmmmm just thinking about them is making me hungry.
Spicy adobo sauced "refried" black beans are made as the base layer.
Mexican chorizo sausage is cooked and mixed with perfect fluffy scrambled eggs as the filling.
Red onions are fried as a flavorful addition.
And queso shredded cheese is sprinkled as the finishing touch.
The burritos are then rolled to assemble chimichangas ready for the oven!
For garnishing, a super fresh avocado tomato salsa is made with citrus lime juice and cilantro as the perfect accompaniment.
Side note, what's Brunch without avocado?!? Not Brunch, obviously.
BREAKFAST CHORIZO CHIMICHANGAS
2018-01-15 18:18:20
Serves 6
Ingredients
REFRIED BLACK BEANS
-1/2 TABLESPOON CANOLA/PEANUT OIL
-1 CAN BLACK BEANS, DRAINED & RINSED
-1/2 SMALL SWEET YELLOW ONION, DICED FINELY
-1/2 TEASPOON MINCED GARLIC
-1/2 TABLESPOON PUREED CHIPOTLE PEPPER IN ADOBO
-1/4 CUP WATER
-SALT
-CILANTRO, CHOPPED
AVOCADO TOMATO SALAD
-1 1/2 RIPE AVOCADOS, CHOPPED
-8 LARGE BABY TOMATOES, CHOPPED INTO QUARTERS
-JUICE OF 1 LIME
-SPLASH OF CANOLA/PEANUT OIL/EVOO
-1/8 CUP CILANTRO, CHOPPED
-RED PEPPER FLAKES
-S&P
CHORIZO FILLING
-1/2 POUND MEXICAN CHORIZO SAUSAGE
-1/4 SMALL RED ONION, SLICED THINLY
-8 LARGE EGGS, BEATEN UNTIL FLUFFY & COMBINED
-S&P
-CILANTRO, CHOPPED
CHIMICHANGAS
-CANOLA/PEANUT OIL
-6X 10" FLOUR TORTILLAS
-MONTEREY JACK/QUESADILLA CHEESE, SHREDDED
-CILANTRO & LIME WEDGES FOR GARNISH
Instructions
REFRIED BLACK BEANS
- POUR OIL INTO A MEDIUM SAUCE PAN, ADD IN CHOPPED ONIONS AND SAUTE OVER MEDIUM HEAT UNTIL TRANSLUCENT, ABOUT 3 MINUTES
- ADD IN MINCED GARLIC AND COOK 30 SECONDS
- TOSS IN BLACK BEANS, 1/4 CUP WATER, AND ADOBO PEPPERS
- STIR AND COOK FOR 20 MINUTES UNTIL WATER IS REDUCED AND BEANS ARE SOFT, STIRRING OFTEN
- SMOOSH WITH A MASHED POTATO MASHER, ADD SALT TO TASTE AND CILANTRO TO TASTE
- SPREAD BEANS THINLY ON A BAKING SHEET TO COOL
AVOCADO TOMATO SALSA
- TOSS CHOPPED AVOCADO, TOMATOES, AND RED PEPPER FLAKES INTO A BOWL
- COVER WITH JUICE OF 1 LIME, OIL, S&P, AND CILANTRO, FOLD TOGETHER
- SET ASIDE
CHORIZO FILLING
- IN A MEDIUM PAN HEAT OIL AND COOK SAUSAGE UNTIL BROWNED ON BOTH SIDES, ABOUT 8 MINUTES
- REMOVE ONTO PAPER TOWEL TO LET DRAIN
- TOSS IN RED ONION AND FRY IN CHORIZO OIL
- ADD CHORIZO BACK IN AND POUR IN EGGS
- LIGHTLY MIX EGGS AS THEY BEGIN TO COOK AND FLUFF UNTIL JUST SCRAMBLED
- SEASON MIXTURE WITH S&P, ADD IN CILANTRO AND REMOVE FROM HEAT
CHIMICHANGAS
- PREHEAT OVEN TO 425 DEGREES
- BRUSH A NONSTICK PAN WITH CANOLA/PEANUT OIL
- ASSEMBLE THE FLOUR TORTILLA STARTING WITH A SMEAR OF BLACK BEANS, LEAVING AN INCH EDGE, TOP WITH CHORIZO MIXTURE AND A HANDFUL OF CHEESE
- ROLL TORTILLAS: FOLD THE TWO OUTER SIDES IN (LEFT & RIGHT), HOLDING THE TWO SIDES DOWN USE YOUR THUMBS TO FOLD THE FRONT SIDE CLOSEST TO YOU OVER THE WHOLE BURRITO AND ROLL TO CLOSE (SEAM SIDE DOWN)
- PLACE SEAM SIDE DOWN ONTO THE PAN AND BRUSH WITH OIL
- BAKE FOR 7 MINUTES, SWITCH TO BROIL FOR 5 MINUTES, WATCH THEM BROWN
- TOP WITH AVOCADO TOMATO SALSA , CILANTRO, AND LIME WEDGES
Notes
IF YOU WANT TO ADD IN RED OR YELLOW PEPPERS, FRY 1 PEPPER SLICED THINLY WITH THE RED ONION BEFORE ADDING THE CHORIZO AND EGGS IN
Adapted from BOBBY FLAY
Adapted from BOBBY FLAY
AMBS LOVES FOOD http://www.ambslovesfood.com/
Please serve these with mimosas, it's only fair.
Much love,