I'm sure you've all seen cookies all over EVERYTHING because, duh, it's the holidays but have you seen Edible Chocolate Chip Cookie Dough?
We didn't think so.
This Edible Chocolate Chip Cookie Dough is three things: edible (obvs), eggless and AMAAAZING!!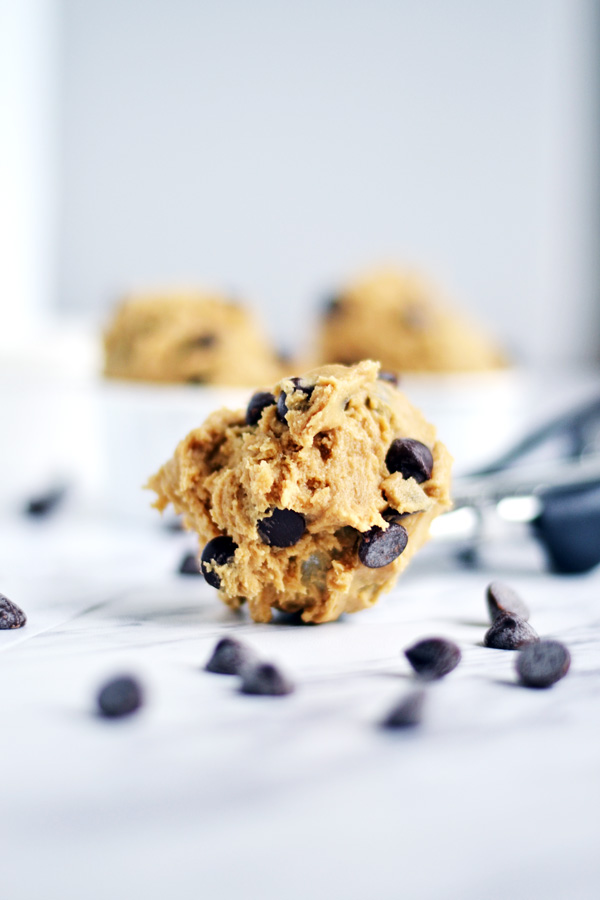 It's made without eggs to be "okay" to eat raw but it's made with all the other sweet goodies as well to make it taste just as good if not even better.
How many peeps out there insist on eating raw cookie dough batter or any batter in general?!?! It can't just be me.
I recently found out my sister is is not a raw batter fan, making me question if we are even related?!
But seriously, raw eggs do not scare me (at least not yet) but you can feel GOOD about eating this raw Edible Cookie Dough batter and not secretly wonder in your head if you might get sick or feel nauseous or whatever it is that happens when you get salmonella poisoning.
The inspiration for this Edible Cookie Dough came from a sweet little NYC work trip my bestie and I took and we found our way over to DO, Cookie Dough Confections. If you haven't checked it out yet, you need to next time you're there.
We both tried the cookie dough milkshakes and it was the perfect combination of batter to ice cream and it was exactly what we needed on a hot summer day.
This recipe is actually their official basic recipe that we're sharing with you today!
And the best part of all is that this Edible Cookie Dough right here is absolute perfection raw, but you can also bake it into cookies too!
Or make it into an incredible chocolate chip cookie dough milkshake, I did that too and OMG it was unreal.
You can also add sprinkles, because why not, or any other toppings you want such as m n m's, white chocolate chips, or even nuts!
EDIBLE CHOCOLATE CHIP COOKIE DOUGH
2017-12-20 17:41:18
Serves 10
Ingredients
3/4 CUP BUTTER, MELTED
1 1/4 CUPS BROWN SUGAR, LOOSE
1/4 CUP GRANULATED SUGAR
1/4 CUP SKIM MILK
1 TABLESPOON VANILLA
2 CUPS & 2 TABLESPOONS FLOUR
1/2 TEASPOON SEA SALT
1 CUP SEMI-SWEET CHOCOLATE CHIPS
ANY OTHER TOPPINGS
Instructions
COMBINE FLOUR AND SALT IN A BOWL, SET ASIDE
IN A MIXER, WHISK MELTED BUTTER, BROWN SUGAR, AND WHITE SUGAR
ADD IN THE MILK UNTIL COMBINED AND THEN THE VANILLA
SPRINKLE IN THE FLOUR A LITTLE BIT AT A TIME AND MIX WITH A SPATULA
USE SPATULA TO MIX IN CHOCOLATE CHIPS
Notes
BAKE AT 350 DEGREES FOR 10 MINUTES IF DESIRED
AMBS LOVES FOOD http://www.ambslovesfood.com/
If you're a traditional baked cookie foodie, I absolutely swear by my Perfect Chocolate Chip Cookie recipe (they're AU's fav).
Much love,