If you're looking for something to make with all that amazing food from your Thanksgiving feast this year, these Mashed Potato Bacon Pancakes made with leftover mashed potatoes are perfect for you.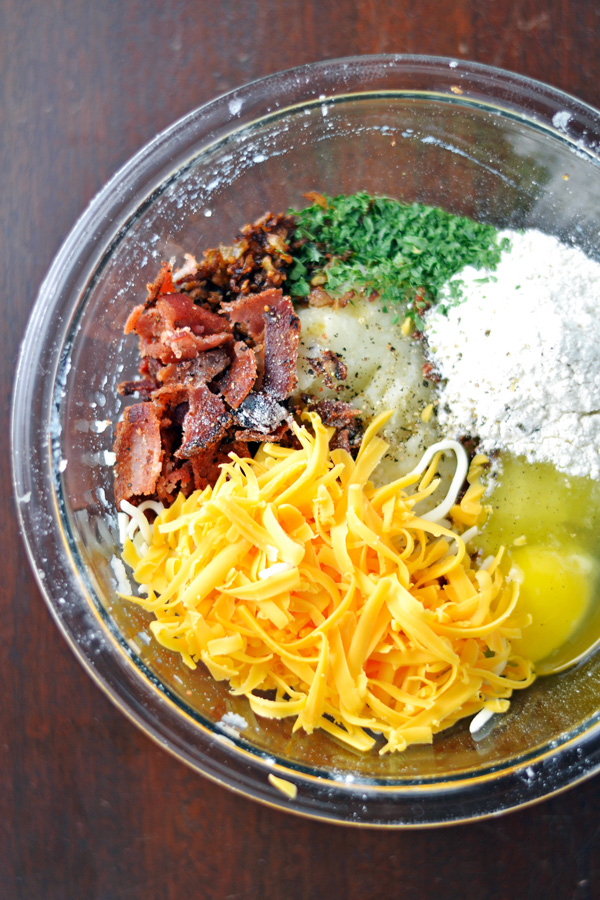 With a just a few simple ingredients these easy Mashed Potato Bacon Pancakes consist of a small list of ingredients and are super easy to whip up in a flash.
Made with mashed potatoes, crumbled crispy bacon, eggs, flour, cheddar cheese and onion, these are the perfect side dish to any meal.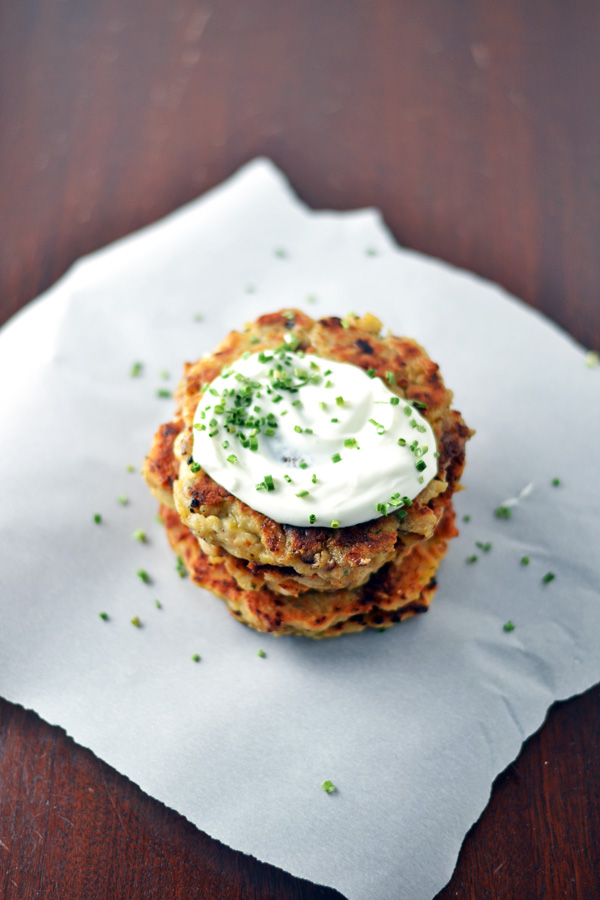 Topped with sour cream and chives, you have a tasty crowd pleaser in minutes!
What's most fun about these is that you can actually use whatever leftovers you have inside them as well.
This version just uses bacon and cheese but if you have corn, roasted peppers, ham, or anything else you can chop it up and toss it inside.
Frying these Mashed Potato Bacon Pancakes gives them a fabulous crispy crunchy edge that's awesome to bite into and munch on.
The mashed potatoes stay soft and creamy on the inside with the outsides becoming slightly fried.
If you're looking to make these without leftovers, you can just make the mashed potatoes beforehand and refrigerate overnight or even just for a couple hours. The mashed potatoes do need to be cold so they can be rolled into balls before being smooshed to fry.
MASHED POTATO BACON PANCAKES
2017-11-25 13:45:58
Serves 6
Ingredients
2 CUPS COLD MASHED POTATOES
1 CUP SHREDDED SHARP CHEDDAR
1/2 CUP FLOUR
6 PIECES OF BACON
1/2 MEDIUM SWEET YELLOW ONION, CHOPPED
1 TEASPOON MINCED GARLIC
1 TEASPOON SALT
1/2 TEASPOON PEPPER
2 EGGS
4 TABLESPOONS BUTTER
SOUR CREAM
CHIVES
Instructions
FRY BACON UNTIL CRISPY, BLOT WITH PAPER TOWEL AND CRUMBLE
RE-USE HALF THE BACON GREASE AND FRY CHOPPED ONION UNTIL TRANSLUCENT
ADD ONION TO BACON AND TOSS IN CHEDDAR, FLOUR, EGGS, GARLIC, SALT AND PEPPER
MIX EVERYTHING UNTIL COMBINED
ROLL ABOUT 1/4 CUP MIXTURE INTO BALLS, FLATTEN AND ROLL AGAIN
FRY ABOUT 3 MINUTES ON EACH SIDE IN MELTED BUTTER
SERVE WITH SOUR CREAM & CHIVES
Adapted from SPEND WITH PENNIES
Adapted from SPEND WITH PENNIES
AMBS LOVES FOOD http://www.ambslovesfood.com/
Much love & Happy Thanksgiving leftover day,