Treats all around on Sundays like this are the literal best. No Bake Strawberry Chocolate Tart for a rainy day or any day.
Have you ever made anything with an oreo base?
The crunchy oreo cookies mixed with the vanilla icing make the perfect combination for a pie crust base.
It's smooth, crunchy, and full of flavor and flattens with a spoon absolutely perfectly.
Well the added butter doesn't hurt either!
It's kind of like a dream crust that's super simple and delicious.
Chocolate oreos are the start to this Nutella Mousse, the middle of these Ultimate Chocolate Chip Oreo Brownies, and it's not only the base but also the topping to this Oreo Cheesecake.
And they're the most amazing crust to this No Bake Strawberry Chocolate Tart.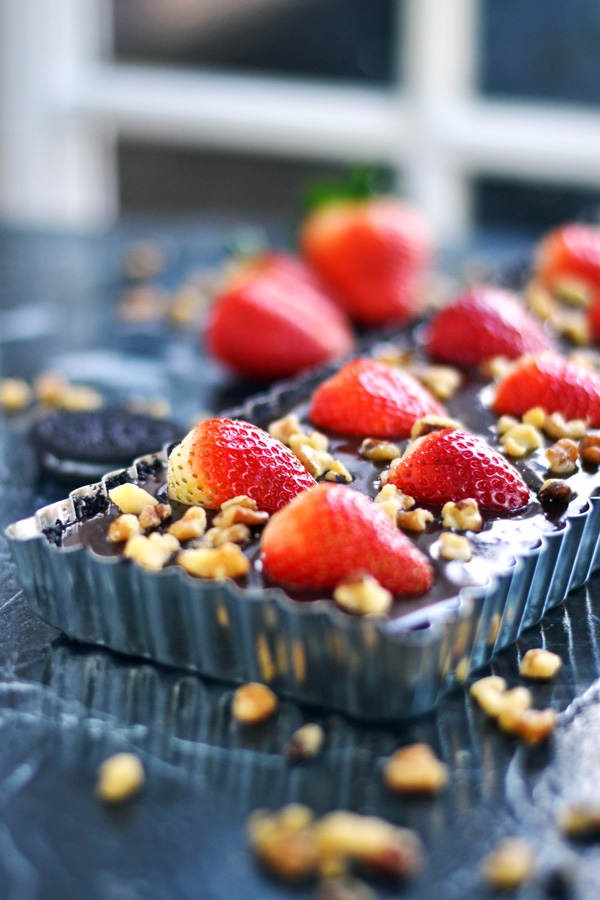 Chocolate is the main ingredient and main filling to this beautiful tart and it's something ALF eats off a spoon.
Melted milk chocolate, semi- sweet chocolate and heavy whipping cream create the most magical filling for this No Bake Strawberry Chocolate Tart.
Once it's poured into the buttered smoothed crust, juicy sweet plump strawberries are poked in throughout the rectangular baking tray.
Chopped walnuts are sprinkled on top to create a beautiful dessert that comes together effortlessly.
Slicing the tart into triangles is the most fun part, it's such a fun way to present dessert.
The rectangular baking tray is remarkable, the bottom piece slides out of the side to be able to cut and serve it easily.
NO BAKE STRAWBERRY CHOCOLATE TART
2018-01-28 15:37:47
Serves 10
Ingredients
OREO BASE
-32 OREOS
-1/2 CUP BUTTER, MELTED
FILLING
-7 OUNCES MILK CHOCOLATE
-3.5 OUNCES SEMI-SWEET CHOCOLATE
-7 OUNCES HEAVY WHIPPING CREAM
GARNISH
-10 OUNCE STRAWBERRIES, TOPS REMOVED
-CHOPPED WALNUTS
Instructions
PLACE OREOS IN A BLENDER OR FOOD PROCESSOR AND PULSE UNTIL CRUMBLED
ADD IN MELTED BUTTER AND PULSE UNTIL COMBINED
SPRAY A 5"X14" RECTANGULAR BAKING TRAY WITH COOKING SPRAY AND SPOON CRUMBLED OREOS INTO PAN, SMOOTH AND SMOOSH WITH THE BACK OF A SPOON
FREEZE WHILE CHOCOLATE FILLING IS MADE
COMBINE CHOCOLATE AND CREAM IN A SMALL SAUCEPAN OVER MEDIUM LOW HEAT
LET MIXTURE GET HOT BUT DO NOT LET IT BOIL
REMOVE FROM HEAT AND MIX UNTIL ALL CHOCOLATE IS MELTED
POUR FILLING OVER CRUST AND TOP WITH STRAWBERRIES AND NUTS
PLACE IN FRIDGE FOR 2 HOURS TO SET
REMOVE THE BOTTOM PORTION AND SLICE INTO TRIANGLES
Notes
USE PECANS, PISTACHIOS, OR SLICED ALMONDS INSTEAD OF WALNUTS
I LOVE TRADER JOES 1 POUND MILK CHOCOLATE, IT'S THE BEST
Adapted from HOME COOKING ADVENTURE
Adapted from HOME COOKING ADVENTURE
AMBS LOVES FOOD http://www.ambslovesfood.com/
Much love,