Finally sharing this Salted Caramel Butter Cake with extreme excitement and happiness today!
This cake is like heaven in cake form, to be honest it is the best cake there ever was in all of ALF land.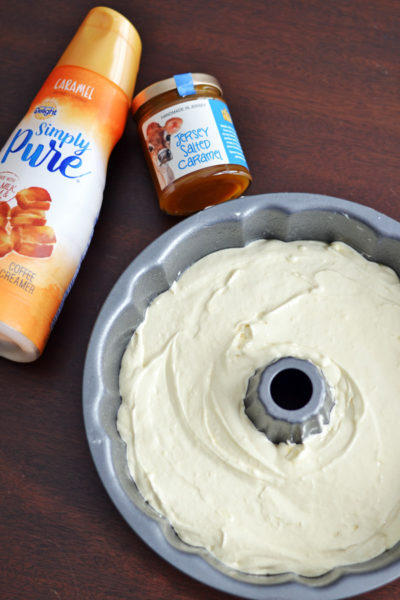 There's been a lot of cakes on here, a lot of AMAZING cakes full of flavor and full of love.
Like this Red Velvet Cake with Cream Cheese Icing (the richness and deliciousness), or this Triple Chocolate Cake (holy chocolate!), or even this Rum Cake (which I can't even deal with!).
But THIS Salted Caramel Butter Cake, this one takes the cake more than any other before it (see what I did there?!).
The cake is made with caramel coffee creamer to give it an incredible unique flavor keeping it moist and soft. Once baked, a homemade caramel coffee creamer buttery sauce is made and poured into poked holes so that it sinks from the bottom to the top. A salted caramel sweet sauce is then drizzled all over the top of the cake, and chopped walnuts are sprinkled on top to give a crunch to all the sweetness.
Heaven on literal cake earth people.
One of the best parts is that the sugary butter sauce slightly hardens when it cools and creates little sugar crystals on top of the soft cake.
Let's just talk about the salted caramel "garnish" for this cake. The one used here came all the way from the Isle of Jersey in the UK. It was saved for a special occasion and this was like none other, it was truly amazing.
With Thanksgiving this week (HOW?!?!), I will be making this for our turkey day but I am going to have to find a replacement salted caramel to use instead as we only brought one back from Jersey (boo!!). I plan to use the ice cream topper version of salted caramel instead and it will be just as wonderful.
And for your Thanksgiving, we think you should make this too because why not?!
You'll be sure to impress everyone with this easy masterpiece recipe.
As normal, the ALF cakes use spruced up cake box mixes instead of all those long listed ingredient cakes.
A general cake mix, preferably Duncan Hines, with an extra egg, sometimes butter makes for the absolute BEST start to any cake recipe.
ALF always always always swears by it.
SALTED CARAMEL BUTTER CAKE
2017-11-19 14:49:31
Serves 16
Ingredients
CAKE
1 BUTTER CAKE BOXED MIX
4 LARGE EGGS
1/4 CUP WATER
1/4 CUP SIMPLY PURE CARAMEL COFFEE CREAMER
7 TABLESPOONS BUTTER, SOFTENED
BUTTER SAUCE
3/4 CUP WHITE SUGAR
1/3 CUP BUTTER
3 TABLESPOONS SIMPLY PURE CARAMEL COFFEE CREAMER
2 TEASPOONS VANILLA EXTRACT
SALTED CARAMEL JAR, STORE BOUGHT
Instructions
PREHEAT OVEN TO 350 DEGREES
USING A STANDING MIXER; MIX CAKE MIX, EGGS, WATER, COFFEE CREAMER AND SOFTENED BUTTER UNTIL FLUFFY AND COMBINED
POUR INTO PREPARED BUNDT PAN SPRAYED WITH COOKING SPRAY
BAKE FOR 30-35 MINUTES UNTIL A STICK COMES OUT CLEAN
POKE HOLES INTO CAKE WITH A CHOPSTICK AFTER REMOVING FROM OVEN
COMBINE SUGAR, BUTTER, COFFEE CREAMER, AND VANILLA EXTRACT IN A SMALL SAUCE PAN ON MEDIUM HEAT
STIR UNTIL SUGAR IS MELTED AND ALL IS COMBINED
POUR OVER THE TOP OF THE ENTIRE CAKE
LET COOL COMPLETELY
TURN CAKE OVER ONTO A CAKE STAND, DRIZZLE WITH SALTED CARAMEL
GARNISH WITH WALNUTS, PECANS, OR SLICED ALMONDS
Notes
USE AS MUCH SALTED CARAMEL AS YOU WOULD LIKE, I USED HALF A SMALL JAR
Adapted from WISHES AND DISHES
Adapted from WISHES AND DISHES
AMBS LOVES FOOD http://www.ambslovesfood.com/
Much love and Happy early Thanksgiving,