While I was in Europe I had ice cream almost every single day. Upon arriving home and this
changing abruptly I needed ice cream immediately after "withdrawals". I had been wanting to try
an ice cream recipe I saw on Pinterest and decided this was the one: Sea Salt & Honey Ice Cream.
I ate so much Jersey ice cream in Jersey, which was my favorite. It was delightful and
made with Jersey cow cream and that is about the best ice cream ingredient on earth.
So homemade ice cream time was upon us!
For this recipe and others I've made, I do not own an ice cream churner and this recipe is no churn, YUS!
No churn ice cream is fab, I love what you can create without an ice cream churner…
For example this recipe I made on Ambs Loves Food: Strawberry Cheesecake Ice Cream was perfect.
Strawberry pie filling is the star ingredient in this recipe and the condensed milk keeps it sweet.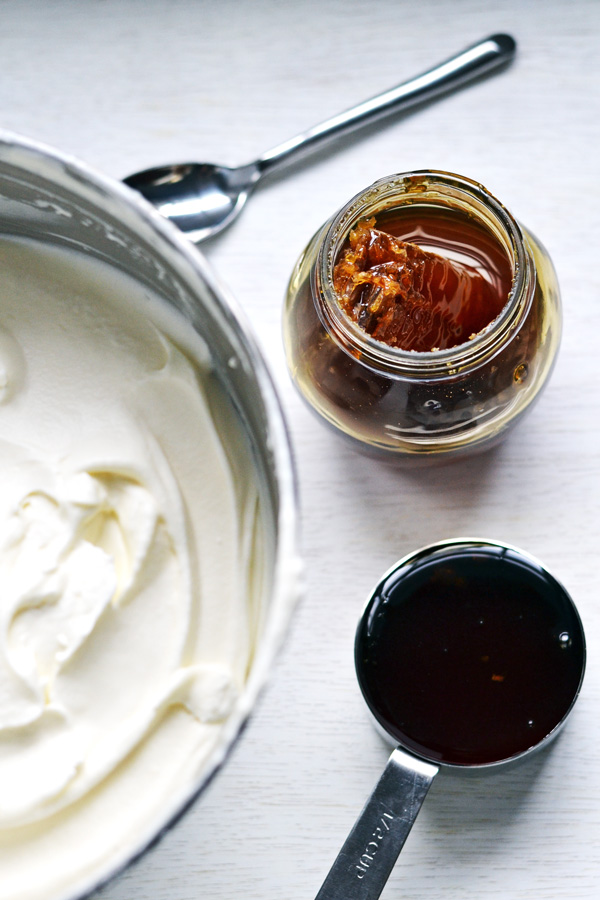 Condensed milk makes another wonderful appearance in this recipe.
Just four ingredients (crazy I know) are used to create this delicious creamy masterpiece.
A mixture of whipped cream, condensed milk, sea salt and honey
are the four basic ingredients in this Sea Salt & Honey Ice Cream.
It's so easy to make and comes together in less than 15 minutes.
Recipe WIN.
Creamy, rich, flavorful, and luscious are how I would explain this ice cream
and everything about it. The texture is so smooth and incredible on the tongue!
I decided to use reaaaaally good premo honey. It still has the honey comb in it, and it's awesome.
Honey in this recipe is such a great addition. Generally you would think to use caramel for a
salty caramel ice cream but the honey is more earthy and the flavor is more concentrated.
I am in love with how the sea salt paired with the honey in this ice cream.
Oh ice cream joy!
With these hot days and humid air around, this ice cream is the perfect way to cool down.
Be ready for a flavor explosion and cooling effect in this recipe (obvs).
SEA SALT & HONEY ICE CREAM
2017-07-06 19:53:54
Serves 8
Ingredients
1 pint heavy whipping cream
1 14 ounce can condensed milk
1/4 cup good quality honey
1/2 teaspoon sea salt
sea salt & honey for serving
Instructions
Whip cream in a kitchen aid mixer with the whisk attachment or hand whip until stiff.
Fold in condensed milk until combined.
Drizzle in honey and sea salt, fold until combined.
Top with honey and sea salt.
Freeze until solid, 6 hours or more.
Serve with drizzled honey and sea salt.
AMBS LOVES FOOD http://www.ambslovesfood.com/
It's so pretty when it melts.
Much love & ice cream joy,