I have been craving risotto so bad lately, so I made Shrimp Asaparagus Risotto for me.
And only me. And now I'm sharing it with all of you!
This is a super simple easy recipe and it's all in one pot!
I love one pot recipes, less dishes and WAY more fun.
Risotto is one of my absolute favorite things to make. Oh and eat, duh!
I had a similar dish to this one at Willow's Bistro in Winston and it was so wonderful.
I got to eat this with my bestie Meghan on an awesome girls day mini Bachelorette.
I paired my Shrimp Asparagus Risotto with a tasty glass of sangria and savoured the flavors.
My meal was creamy, soft, felt like velvet in my mouth and had such a lovely smokey flavor.
The shrimp was bright and crispy and the asparagus added greenery and color to the plate.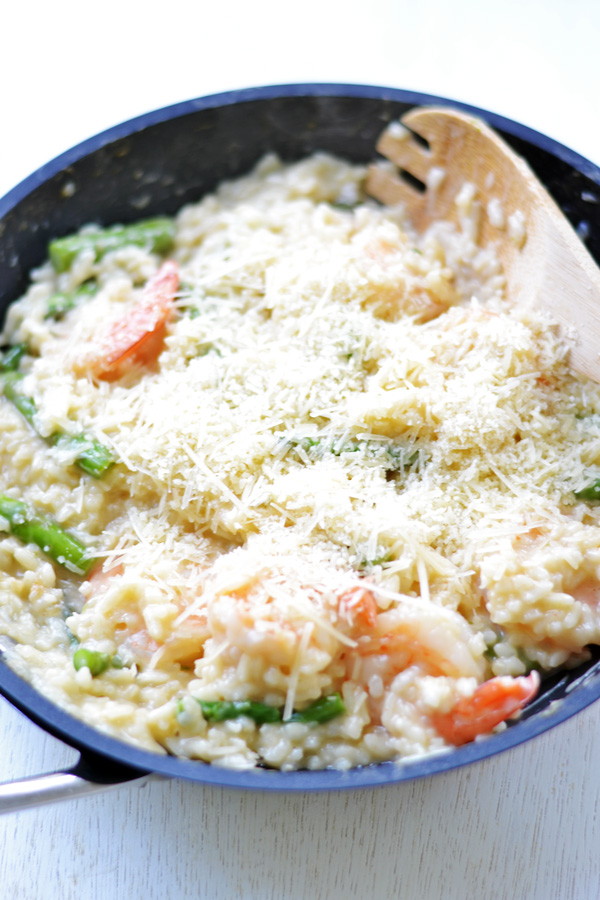 I needed this in my life again. So I found a recipe on Pinterest and went for it and I made this masterpiece.
Don't worry alllll that parmesan is supposed to be on there.
After I sat down to enjoy this easy recipe I could literally taste all the
ingredients working together with each other.
A little bit of wine, a lot of cheesy melted parmesan, soft risotto filled with
cooked chicken broth, and the cracked pepper powering through each bite.
It kinda tasted a little like heaven and I didn't even mention the pink shrimp
or crunchy asparagus that cooked alongside the risotto itself.
Whoop there it is, a bowlful of this will take the winter blues away and keep you oh so warm.
Don't forget the fresh cracked pepper peeps.
SHRIMP ASPARAGUS RISOTTO
2017-01-27 13:05:46
Serves 2
Ingredients
2.5 cups chicken broth
1 tablespoon butter
1 baby shallot, minced
3/4 cup arborio rice
1/4 cup pinot grigio
1/3 cup chopped asparagus
10 large shrimp
old bay seasoning
1/3 cup parmesan, grated
S&P
Instructions
Boil chicken broth in a saucepan, once boiling turn heat low to keep warm.
Sprinkle old bay on the shrimp and toss to coat.
In another saucepan melt butter and toss in minced shallot.
Once translucent and fragrant throw in uncooked rice.
Toast slightly in butter until covered, pour in wine and cook until wine is absorbed in the rice.
Add 1/2 cup chicken broth and stir, cook on medium until all liquid is absorbed.
Keep adding 1/2 cup broth at a time until it's absorbed.
When you only have three more 1/2 cups of broth left, toss in asparagus.
Continue to stir as it's all cooking. After your third addition of broth, add shrimp to the pan.
Taste the rice at this point, if it is soft you don't need to continue adding broth, if it's slightly hard keep adding all the broth 1/2 cup at a time.
Once all broth is absorbed and the rice is soft, add in the parmesan and season with S&P.
AMBS LOVES FOOD http://www.ambslovesfood.com/