Raise your hand if you would like to stick your face in these Shrimp & Pimiento Cheese Grits?
Or is that just me?
Growing up in South Africa and then America, I am the first to admit that I was not a fan of grits.
Until I started college I had never really tried grits before. I thought they would be too smooshy and
like baby food. I also thought they didn't look too appealing or appetizing and most likely lacked flavor.
But boy was I oh so wrong about everything I had thought grits were.
Good grits are the complete opposite.
They have a great texture, are wonderfully flavored, and most importantly they make the best base for shrimp.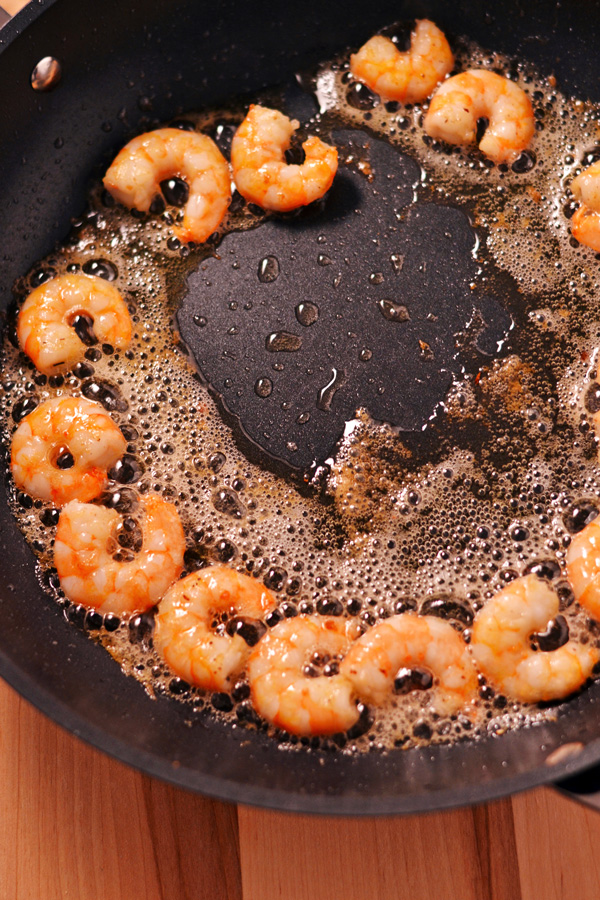 Shrimp and Grits are now one of my absolute favorite meals.
And these Shrimp & Pimiento Cheese Grits are at the top of my list.
I have made Shrimp and Grits before, recipe here, and they were so amazing and yummy and so good.
Seriously, check that out.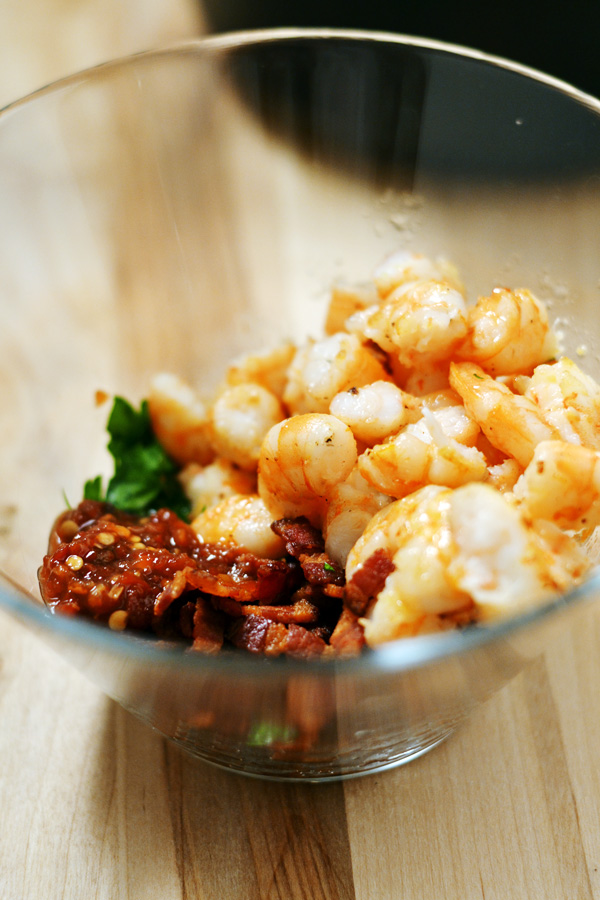 But then I made these and my mind was blown and I had an amazing savoring experience with this recipe.
…
Can we talk about the easiness to this Shrimp & Pimiento Cheese Grits recipe?
Let's first talk about the ingredient list because it's legit tiny.
Especially for a recipe with this much punch and flavor, like holy cow.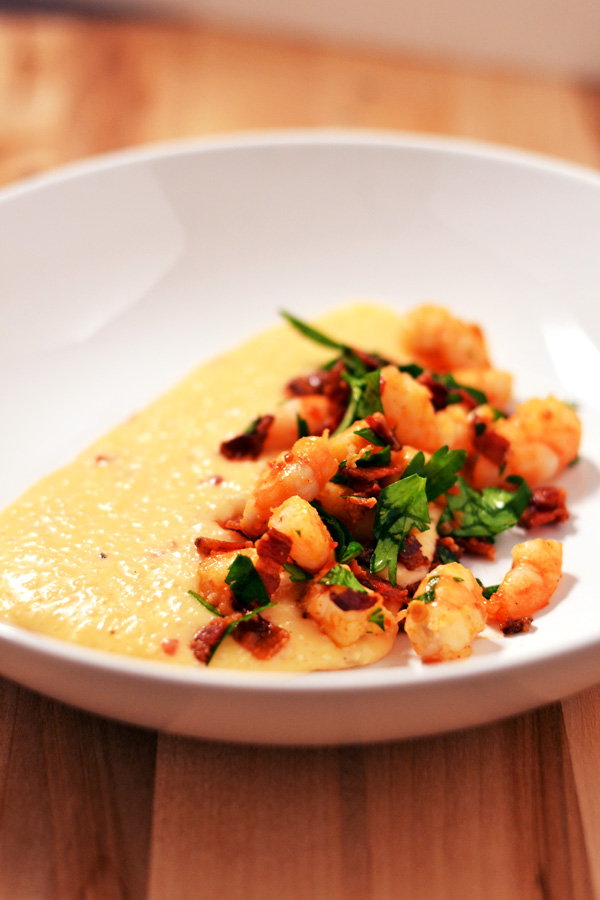 – obviously shrimp
– grits
– bacon
– lime juice
– parsley
– sambal oelek
and
– PIMIENTO CHEESE (secret ingredient)
Aside from S&P for seasoning and olive oil for cooking THAT is the ingredient list.
I know, crazy right? It's so simple and short and really fabulous.
Did I mention how easy it is to make this as well. This came together in 30 minutes and I was delighted.
It tasted like AU and I went out for dinner and had a restaurant version of these Shrimp & Pimiento Cheese Grits.
SHRIMP & PIMIENTO CHEESE GRITS
2017-04-09 16:09:39
Serves 4
Ingredients
1 cup, medium ground grits
1 cup pimiento cheese, (I used Palmetto with jalapenos)
4 teaspoons sambal oelek, separated
1 tablespoon olive oil
5 pieces thick bacon, (I used Trader Joes- the best)
1/3 cup flat leaf parsley, chopped
3/4 pound large shrimp, peeled and deveined
2 teaspoons freshly squeezed lime juice
S&P
Instructions
Combine 4 3/4 cup water, 2 teaspoons salt, and 1/4 teaspoon pepper and bring to a boil on medium high heat.
Mix in grits and whisk well.
Turn heat to medium low and continue whisking occasionally.
Cook for 10-12 minutes until they become thick and creamy.
Turn heat to medium and add in pimiento cheese and 2 teaspoons sambal oelek until combined.
Whisk until pimiento cheese is melted and smooth, for about 2 minutes.
Season with S&P if needed, set aside.
Heat olive oil in a medium sautee pan.
Toss in chopped bacon and cook until brown and crispy.
Drain on paper towels once cooked, about 5 minutes in the pan.
Turn head to high, add in shrimp and cook until pink, about 1 minute each side.
Cut shrimp into three sections and toss in a medium bowl.
Add in bacon pieces, sambal oelek, lime juice, parsley, mix gently.
Season with S&P.
Serve over pimiento cheese grits.
Notes
I swear by Palmetto Pimiento Cheese, it is literally the best and my favorite ever.
If you want a less spicy version use the plain pimiento cheese instead of the hot one.
I would start the bacon while the grits are cooking!
Adapted from bon appetit
Adapted from bon appetit
AMBS LOVES FOOD http://www.ambslovesfood.com/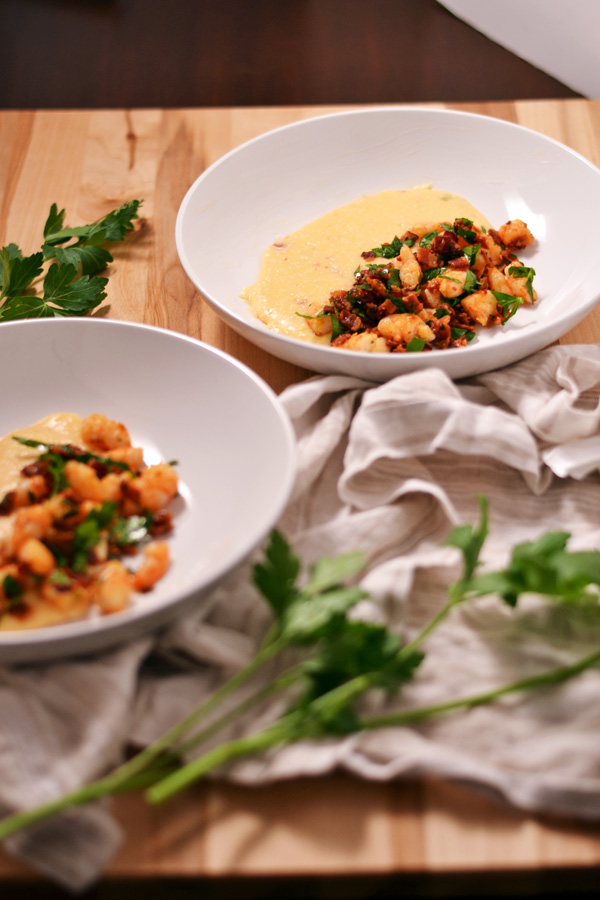 I think pimiento cheese grits will now and forever always be my favorite way to eat grits.
You have to check this out and make it for yourself because I couldn't be more for real.
Much love,